Christian Education
Anita & Antonio Gotto Lecture Series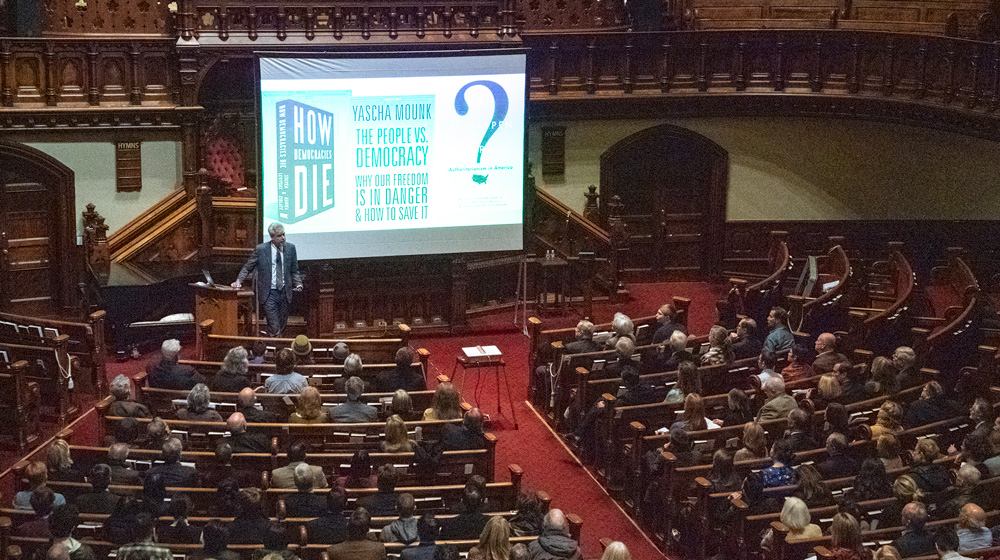 Through the Anita and Antonio Gotto Lecture Series, Fifth Avenue Presbyterian Church offers compelling talks and presentations by renowned theologians and preachers, writers and scholars, across a range of faith traditions and academic disciplines.
The 2019 Gotto Lecture is set for Wednesday, Oct. 30. Best-selling author and longtime New York Times columnist David Brooks is our guest speaker this year. This event is free, but registration is required. Register at fapc.org/lecture.
Inaugurated in October 2018, the Gotto Lecture Series is made possible through a generous contribution from Anita and Antonio Gotto, longtime members of the congregation.
The first speaker in the series was the moral psychologist and best-selling author Dr. Jonathan Haidt. Dr. Haidt is the Thomas Cooley Professor of Ethical Leadership at New York University's Stern School of Business. He is the author of three books—The Happiness Hypothesis (2006), The Righteous Mind: How Good People Are Divided by Politics and Religion (2012) and The Coddling of the American Mind (with Greg Lukianoff, 2018). More than 1,000 attendees filled the Fifth Avenue Sanctuary for Dr. Haidt's lecture.
The Gotto Lecture Series builds on the success of Fifth Avenue's visiting authors program, created by Senior Pastor Scott Black Johnston in 2010. This program has featured such acclaimed writers as James Carroll, Thomas Long, Marilynne Robinson, Barbara Brown Taylor and Christian Wiman.
Anita and Antonio Gotto are both natives of Nashville, Tennessee, where they attended Vanderbilt University. They lived in Houston for 25 years, where they raised their family. Tony Gotto was chair of internal medicine at the Baylor College of Medicine. Anita, a former teacher, served on a number of community boards. The Gottos moved to New York in 1997, when Tony became the dean of Weill Cornell Medical College. They joined Fifth Avenue Presbyterian Church in 1998, where Tony has served on the Board of Trustees and Anita on the Session.