Plan Your Event
Our Facilities
In addition to our Sanctuary and Kirkland Chapel, Fifth Avenue Presbyterian Church has event and meeting spaces throughout the church house that can accommodate groups as large as 200 people.
We also have a catering company on site, Roxo Events, Inc., to provide meals and refreshments while you are here.
We require a signed rental agreement, a non-refundable 25% deposit of the rental fee and a certificate of insurance demonstrating liability coverage for all rentals.
Please contact Jacklyn Smith (212.247.0490, ext. 3018, [email protected]) to inquire about a specific room, request a quote or make your reservation.
The glorious Sanctuary of Fifth Avenue Presbyterian Church was completed in 1875 when the congregation moved to this location at Fifth Avenue and 55th Street.
Much of the original woodwork and stained glass is still in place, although renovations have provided modern heating and air conditioning, lighting and sound. This venue—which seats 1,800 on cushioned pews on the main floor and surrounding balcony—is an impressive space for lectures, musical performances, formal ceremonies and, of course, weddings. Our massive Austin organ and the recently acquired Steinway grand piano are unique features of this extraordinary space.
The Sanctuary (91 ft. x 84 ft.) includes an entry hall (the Narthex) just inside the Fifth Avenue entrance and provides access to the adjacent church house, where additional rental space is available.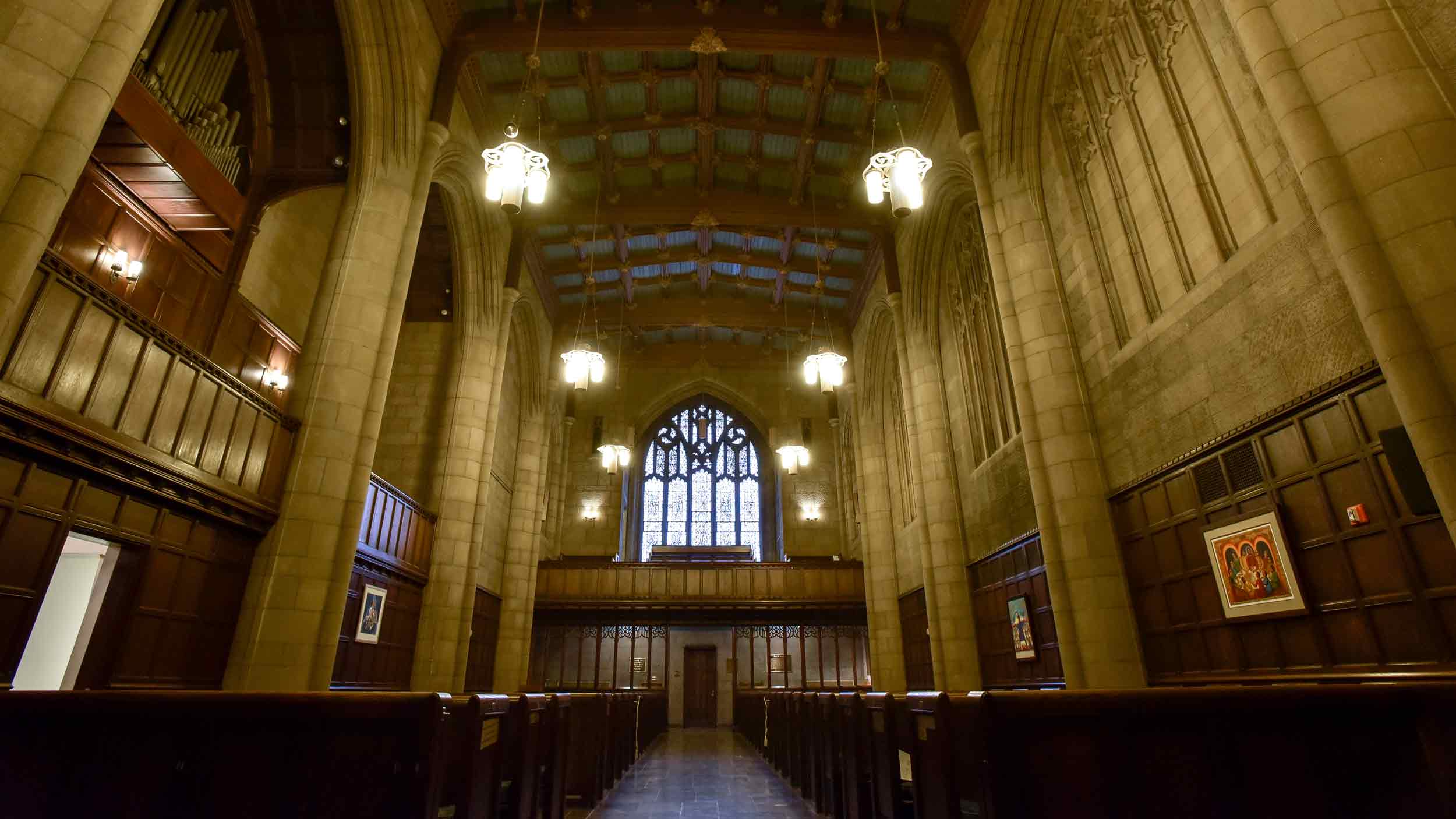 The beautiful, Gothic-style Kirkland Chapel, reminiscent of an English country church, is also an ideal venue for music and the arts, education and other events.
The Chapel was built in 1925 with funds from a leading New York philanthropist, Edward Stephen Harkness. The designer was James Gamble Rogers, the Harkness family architect, who trained at the École des Beaux-Arts in Paris. He was best known as the architect for two Yale University buildings in New Haven, Connecticut—the memorial Quadrangle and Harkness Tower. The Chapel is named for the Rev. Dr. Bryant M. Kirkland, senior pastor of Fifth Avenue Presbyterian Church from 1962 to 1987.
With its warm, intimate ambience and fine acoustics, the Chapel is a superb setting for weddings as well as small ensembles and chamber music. (The FAPC Chamber Choir and Children's Choir regularly perform here.) In addition to a fine grand piano, the Chapel houses to a small pipe organ, built in 1970 by Austin Organs, Inc. of Hartford, Connecticut.
Located on the ground level of the church house, the Chapel is accessible from the West 55th Street entrance and includes a bride's room at the back (which may also serve as a green room). The Chapel (53 ft. x 27 ft.) seats up to 250 persons in cushioned pews on the main floor and in the rear and side balconies.
Bonnell Hall is an elegant, banquet-style room on the second floor of the church house that is suitable for large-group meetings, receptions, fundraisers and galas. It is accessible by both elevator and stairways.
Freshly renovated with a new hardwood floor, glass chandeliers and a state-of-the-art sound system, Bonnell Hall also features full kitchen facilities and a brand new (2013) Boston Grand Piano for performances or musical accompaniment to your event.
The facility (30 ft. x 80 ft.) can seat 184 persons audience style, or 168 persons at round tables.
Jones Auditorium is a theater-style room on the third floor of the church house, accessible by elevator and stairway. A versatile space, Jones Auditorium has been the venue for wedding receptions, fundraising events, classes and meetings, and full-scale Off Off Broadway productions.
The auditorium features hardwood flooring, an elevated stage with red-velvet curtains, stage lighting and a newly refurbished sound system.
Jones Auditorium (30 ft. x 54 ft.) can accommodate an audience of up to 150 persons, or 120 persons seated at round tables.
The LaDane Williamson Christian Education Center is a modern, versatile space with a large, central Gathering Hall flanked by smaller, individual class or meeting rooms on either side. Both the Gathering Hall and the side rooms feature moveable partitions, which can be opened or closed to create the exact size of the space, or spaces, that you need.
The Christian Education Center is the venue for our Family Ministries programs (including Sunday School and Children's Church) on Sunday mornings. During the week, it may host a conference or small group meetings, or serve as a holding facility for a film or television production company.
This space was newly constructed in 2003 as part of an extensive renovation of the Sanctuary and the church house. Accessible by elevator and stairway, the center includes restroom facilities, a built-in screen for audiovisual presentations and a small kitchen.
Depending on configuration, the Gathering Hall can accommodate a small audience of 70 persons or 40 persons seated at table. The side rooms provide meeting space for 15-20 people per room. At maximum capacity, the Gathering Hall and side rooms can accommodate 208 people.
There are three meeting rooms available on the fifth floor of the church house that can accommodate groups of 12 to 70 people. All rooms have elevator access, wireless connectivity, and restrooms on the floor.
Romeyn Room
Located just off the elevator, this gracious meeting room (16 ft. x 20 ft.) includes a permanent, solid-wood conference table and seating for up to 12 people.
Boardroom
Located next door to the Romeyn Room, the Boardroom (15 ft. x 32 ft.) can accommodate an audience of 40, or 28 at round tables. A pulldown screen is available for audiovisual presentations.
Corning Logan Room
Down the hall from the Boardroom, the Corning Logan Room (19 ft. x 45 ft.) can accommodate up to 70 people audience-style, or 50 at round tables. The room includes a piano and a pulldown screen for audiovisual presentations.