General News
Announcing the First-Ever 'Beyond the Walls' Weekend
If you are part of our remote audience, we are planning a special weekend just for you.
We say it from the pulpit every Sunday: Our faith community extends far beyond the walls of this church. But remember, too, that worshipers "out there" are always welcome "in here."
We invite you to be part of our first-ever Beyond the Walls weekend, set for Friday, May 19, through Sunday, May 21, 2023. The weekend is intended to give livestream worshipers in remote locations an opportunity to get to know Fifth Avenue Presbyterian Church up close. And for us to get to know you!
"We are one church family, but as with all relationships, family takes work," says Ashley Gonzalez, director of engagement. "So we encourage you to come. Plan your trip, book your flight and commit to a weekend with us in person. This could be the beginning of something completely new for the church, and we don't want you to miss it."
The weekend will kick off with an evening social outside on the Weber Terrace. On Saturday morning, we will have service opportunities, Bible study and breakfast together. We are planning a celebratory worship service on Sunday that will embody our belief that the church is wider than the walls of our Sanctuary.
Our long-distance friends also will get a special tour of the church and have opportunities to meet the pastors, staff and members of the congregation. And we'll allow plenty of time for you to enjoy the city on your own.
"Our hope is that this celebratory weekend might become an annual tradition, similar to a parents' weekend at the university," says the Rev. Sarah A. Speed, associate pastor for young adults and membership. "This weekend is all about strengthening connections throughout our wide and diverse church family."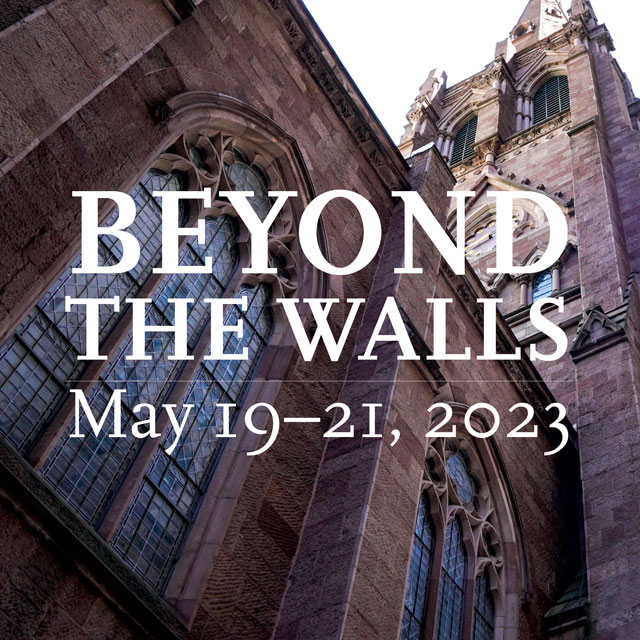 If you think you might be interested in attending Beyond the Walls weekend, save the date! And please submit this form to let us know that you are a "yes" or a "maybe."
We hope to see you next spring!