Christian Education
The Gotto Lecture Series
Through the Anita and Antonio Gotto Lecture Series, Fifth Avenue Presbyterian Church offers compelling talks and presentations by renowned theologians and preachers, writers and scholars, across a range of faith traditions and academic disciplines.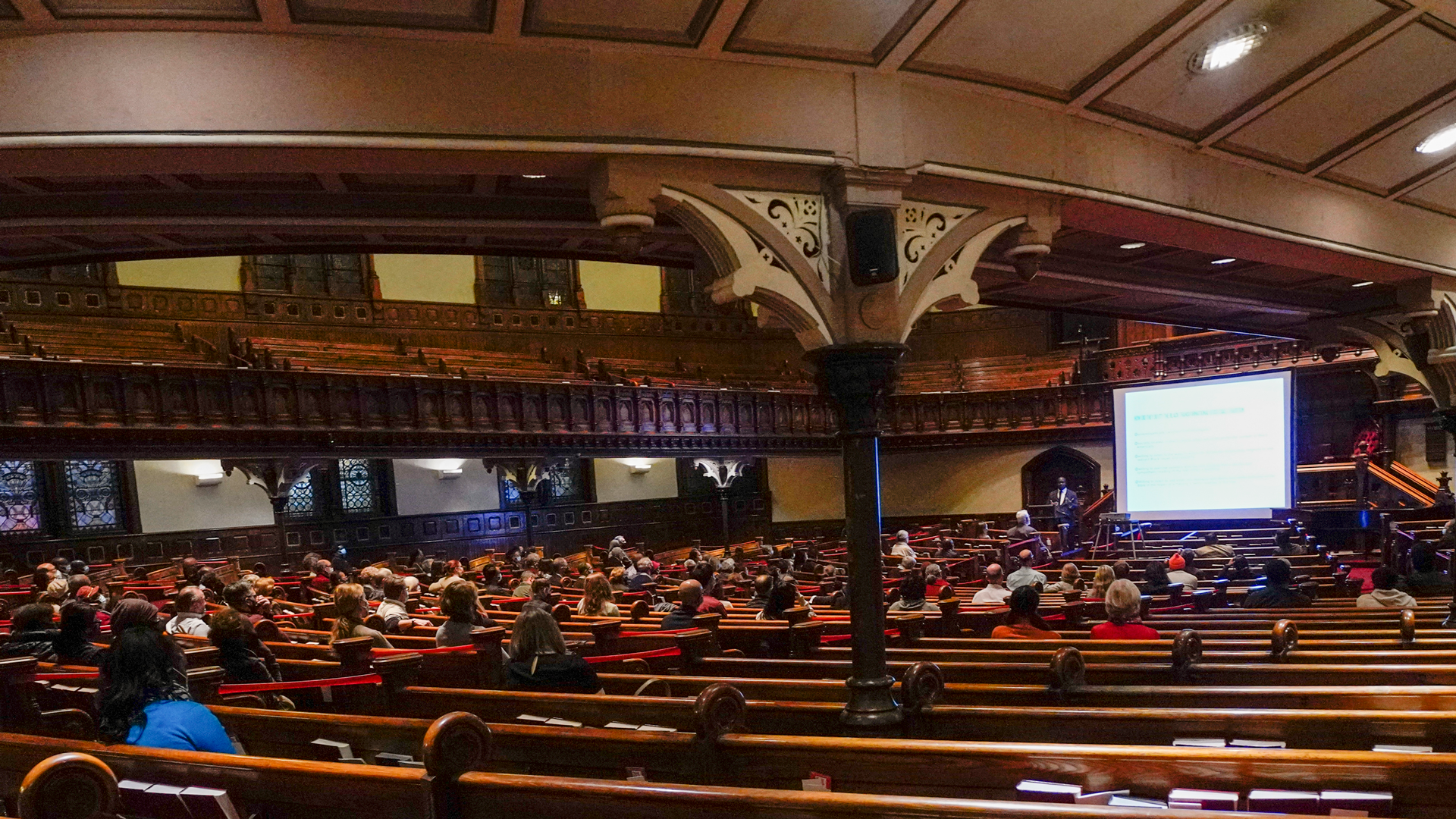 The Rev. Canon Esau McCaulley, PhD
In 2021, The Rev. Canon Esau McCaulley, PhD delivered our fourth-annual Gotto lecture: Orthodoxy and Orthopraxy: The Prophetic Witness of the Black Church. A theologian, author and priest, the Rev. McCaulley is renowned for his research and writing on Pauline theology, African American Biblical interpretation and articulating a Christian theology of justice in the public square. The Rev. McCaulley's most recent book, Reading While Black: African American Biblical Interpretation as an Exercise in Hope, looks at the tradition of African American biblical interpretation and argues that the Bible rightly understood a decidedly black perspective and can speak a word of hope to African Americans in the United States. Replay this lecture.
Emma Green
In 2020, Emma Green, religion and politics writer for The Atlantic, delivered our third-annual Gotto lecture: Red, Fight, and Blue: How Religious America Became So Divided. Green has spent nearly a decade covering religious communities at moments of tension and change. Her stories include a series on the aftermath of a shooting in a Pittsburgh synagogue in 2018, Christians living in Iraq's Nineveh Plain, who have reached a demographic crisis after decades of relentless violence and political persecution, and the diaspora communities of Chaldean Catholics who have settled in cities like Detroit. These stories, she says, share a common goal: they invite readers to think deeply and differently about faith and community, and to be better neighbors and citizens as a result. Replay this lecture.
David Brooks
In 2019, New York Times columnist and best-selling author David Brooks headlined the Gotto Lecture. In addition to his work as a columnist and commentator, Brooks is the author of four books, including The Second Mountain: The Quest for a Moral Life (2019). He is also an executive director of The Aspen Institute, where he leads Weave: The Social Fabric Project. His lecture was entitled, "Sacred Bonds: How to Weave Americans Back Together." Replay this lecture.
Dr. Jonathan Haidt
The first speaker in the series was the moral psychologist and best-selling author Dr. Jonathan Haidt. Dr. Haidt is the Thomas Cooley Professor of Ethical Leadership at New York University's Stern School of Business. He is the author of three books—The Happiness Hypothesis (2006), The Righteous Mind: How Good People Are Divided by Politics and Religion (2012) and The Coddling of the American Mind (with Greg Lukianoff, 2018). His lecture—"How Three Terrible Ideas Are Setting Up a Generation for Failure, and How Ancient Wisdom Can Lead to a Brighter Future"—built on the message of these books.
About the Anita & Antonio Gotto Lecture Series
Inaugurated in October 2018, the Gotto Lecture Series is made possible through a generous contribution from Anita and Antonio Gotto, longtime members of the congregation.
The Gotto Lecture Series builds on the success of Fifth Avenue's visiting authors program, created by Senior Pastor Scott Black Johnston in 2010. This program has featured such acclaimed writers as James Carroll, Thomas Long, Marilynne Robinson, Barbara Brown Taylor and Christian Wiman.
Anita and Antonio Gotto are both natives of Nashville, Tennessee, where they attended Vanderbilt University. They lived in Houston for 25 years, where they raised their family. Tony Gotto was chair of internal medicine at the Baylor College of Medicine. Anita, a former teacher, served on a number of community boards. The Gottos moved to New York in 1997, when Tony became the dean of Weill Cornell Medical College. They joined Fifth Avenue Presbyterian Church in 1998, where Tony has served on the Board of Trustees and Anita on the Session.