Outreach Ministries
Volunteer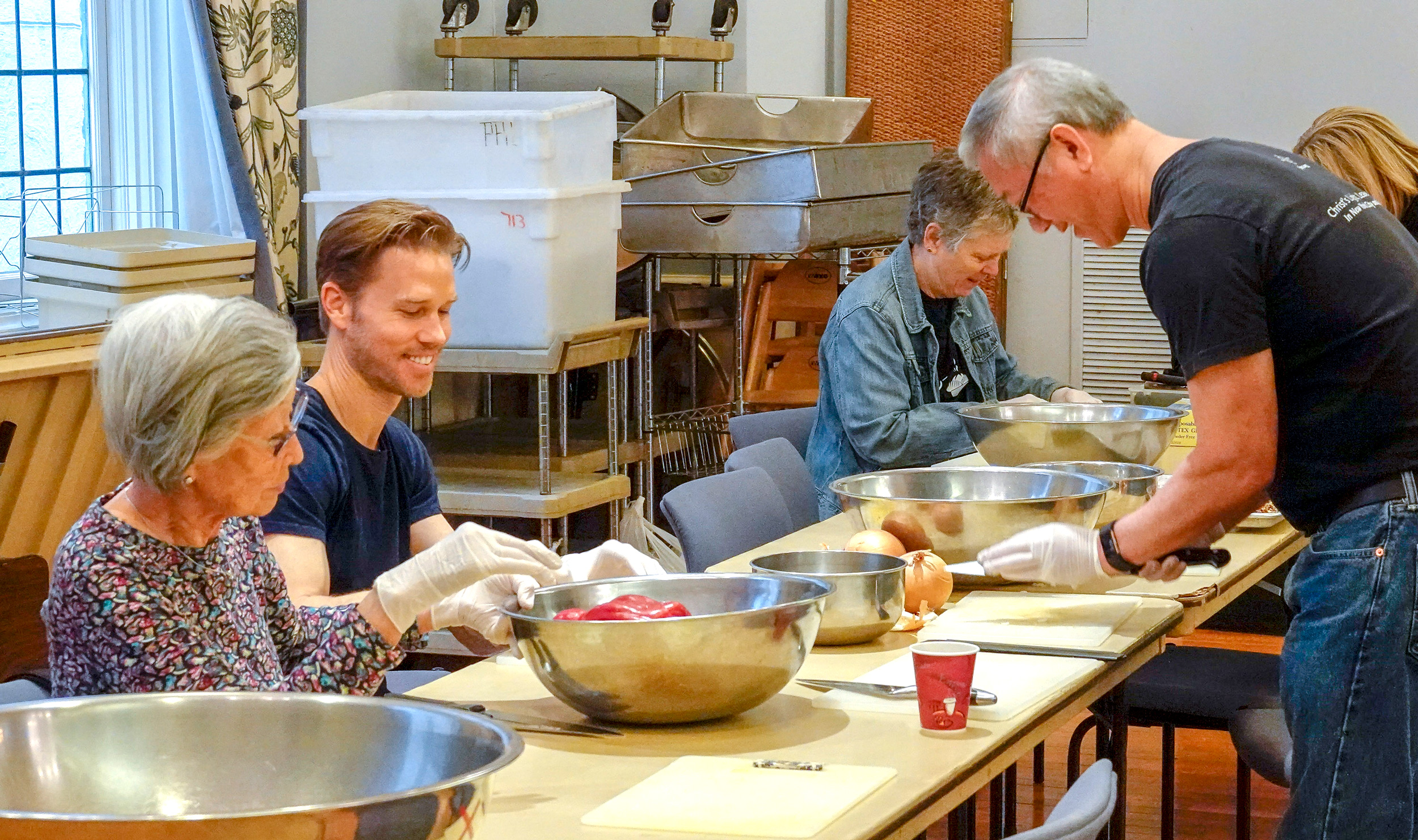 Through Fifth Avenue Presbyterian Church, hundreds of volunteers come together to feed the hungry, cheer the homebound, welcome the stranger, advocate for change, and minister to people in need, around the world and just outside our doors.
We also offer a range of opportunities to serve within this community of faith, from teaching Sunday School to ushering to leading tours. Some of our programs need volunteers on a weekly, even daily basis. Others offer opportunities to serve once a month, or at one-time events scheduled throughout the year.
Scroll down to learn more about the many volunteer opportunities available at Fifth Avenue Presbyterian Church. If you are a new volunteer, please complete the sign-up form and let us know the kinds of opportunities that interest you. We look forward to serving with you!
Please note that many of our programs are suspended during the COVID-19 pandemic. Visit fapc.org/connect to find out about opportunities to serve during this time.
Daily Programs
Archives
Volunteers work with our archivist to maintain and expand the church's extensive collection of records, which date to the founding of the congregation in 1808. Volunteers help to convert print documents and cassette recordings to digital format, input genealogical records and pew records into our database, catalog our photo collection, and handle a variety of other tasks. Much of the work is done in the Archives (on the third floor of the church house), but some tasks can be done remotely. Contact: Dale Hansen ([email protected]).
David B. Skinner Shelter: 365 nights a year
The David B. Skinner Shelter is a year-round, volunteer-run facility that provides accommodations and fellowship to 12 homeless men. Volunteers are needed every night of the year to serve as early evening hosts (7-8:30 pm) and overnight hosts (8:30 pm until 6 am the following morning). Training is provided to all first-time hosts. Learn more about the shelter and the responsibilities of hosting here. Contact: Seamus Campbell ([email protected]).
Ecumenical Outreach Partnership
The Ecumenical Outreach Partnership is a collaborative ministry of Fifth Avenue Presbyterian Church, St. Patrick's Cathedral and Saint Thomas Church that serves our neighbors experiencing homelessness. Working with the program's director, John Sheehan, volunteers escort clients to daytime appointments at health clinics, the city's Human Resource Administration or housing court. Training is provided. Contact: John Sheehan ([email protected]).
Weekly Programs
Community Choir: Thursday evenings
The Fifth Avenue Presbyterian Church Community Choir is a non-auditioned choir open to members of the church and the wider community who love to sing and want to advance their musical and vocal skills. This choir meets on Thursdays from 6 to 7:30 pm for rehearsal and fellowship. The Community Choir joins the FAPC Choir several times each year to lead music in Sunday morning worship. Contact: Ryan Jackson ([email protected]).
Congregational Life: Sundays
Hospitality is one of the core values of the Christian tradition. If you would like to be one of the welcoming faces of the church—at the Meet & Greet, at the Visitors' Table or at special congregational events throughout the year—we welcome your participation! Contact [email protected].
Meals on Heels: Saturday mornings
Every Saturday morning (holidays included), Meals on Heels volunteers gather to prepare home-cooked meals and weekend snacks for the homebound elderly in our neighborhood. Volunteers are needed in Bonnell Hall starting at 9:15 am to help prepare and package the food, and at 11:15 to begin deliveries to nearby homes. Read more about our Meals on Heels ministry, now in its third decade, here. Contact: John Wyatt ([email protected]).
Speaking English: Tuesday afternoons
Speaking English is a tutoring program sponsored by the Women's Association. Volunteer instructors work one-on-one or with small groups of non-native English speakers to improve their language skills. Speaking English meets every Tuesday, from September through June, at 1:30 pm in the Corning Logan Room. Contact: Rita Arlen ([email protected]).
Sunday School: September through May
Our Sunday School ministry offers an engaging, hands-on approach to learning Scripture for children from pre-kindegarten through fifth grade. (In sixth grade, students move on to our Youth Group). All classes are taught by trained volunteers under the direction of our director of Christian Education. Volunteer teachers work in teams for one hour every Sunday, beginning at 9:30 am in the LaDane Williamson Christian Education Center. Contact: Jaime Staehle ([email protected]).
Tours: Sundays and occasional Saturdays
Our trained docents provide tours of our sacred spaces every Sunday following the 11 am worship service (or the 10 am service during the summer). We also need docents and greeters for special Saturday morning tours during Advent and Lent, and for special events such as Open House New York in October and Sacred Sites in May. Contact: Judy Moseley ([email protected]).
Ushers & Greeters: Sunday mornings
Ushers and greeters serve on the front line of Fifth Avenue's ministry of hospitality. Ushers and greeters are needed every Sunday and for special worship services (such as weddings and memorial services) throughout the year. Volunteers typically serve one Sunday every five weeks. Training is provided. Contact: Jacky Radifera ([email protected]).
Befriending Ministry
As part of our ministry to serve New Yorkers experiencing homelessness, Fifth Avenue Presbyterian Church offers a befriending presence to our neighbors on the streets. Volunteers help us to host special events throughout the year—such as the Margaret Shafer Community Picnic in June, and the Joe Vedella Christmas Dinner and Shelter Family Christmas Party in December. Contact: Meredith Fleck ([email protected]).
A Circle of Caregiving
A Circle of Caregiving is a corps of volunteers who provide pastoral care to members and friends of Fifth Avenue Presbyterian Church. Our volunteer caregivers assist the Congregational Care staff by accompanying members to medical appointments, visiting and caring for the sick, and providing other services on call. Contact: Lance Hurst ([email protected]).
Cooking with Shelter Guests
Thursdays in 2020: Jan. 23, Feb. 27, March 26, April 23. Additional dates to be announced.
Outreach volunteer Rusty Breedlove leads this monthly ministry on behalf of our guests in the David B. Skinner Shelter. Volunteers are welcome to join Rusty in the kitchen of Bonnell Hall at 5:30 pm to prepare the evening meal, or to meet us in the shelter about 7:30 pm for food and fellowship. Contact: Rusty Breedlove ([email protected]).
Project FIND
Thursdays in 2020: Jan. 9, Feb. 13, March 12, April 9, May 14, June 11, July 9, Aug. 13, Sept. 10, Oct. 8, Nov. 12, Dec. 10
On the second Thursday of the month, Fifth Avenue volunteers serve dinner to more than 100 seniors at the Coffeehouse Senior Center on West 42nd Street. Contact: Vijay Wijesundera ([email protected]).