Advocacy + Outreach
Dispatch from the Lesotho Mission Trip
March 6, 2020
"They say it is better to give than to receive, but the thing is, I'm not sure who is the giver and who is the receiver in this relationship."
Bryn Hartzell sent those words from Maseru, Lesotho, this week. Bryn is among the eight members and friends of Fifth Avenue Presbyterian Church on a mission trip to support our mission partner, Ministry of Hope Lesotho. The team departed the day after Ash Wednesday and is set to return on Monday.
Ministry of Hope Lesotho is a refuge for orphaned and vulnerable children in the capital city of the small nation in southern Africa. Currently 26 children, from infants to teens, share a three-bedroom, one-bath home. A full-time caregiving staff attends to the children, while a social worker on staff provides counseling, supports their schooling and outside activities, and seeks to place them in permanent homes with relatives or adoptive families.
"This ministry loves unconditionally," Bryn writes. "It educates, nurtures, builds community and breeds compassion. Within minutes of stepping foot onto the grounds, I immediately felt the love and kinship. I am excited to be able to walk along with them on this journey."
The mission trip team is led by Fifth Avenue member Sally Harwood, president of Ministry of Hope Lesotho's U.S. board of directors. Along with Bryn, the mission trip team includes Emi Iwaida, Richard Parr and Julie Russell from Fifth Avenue; Jodi Beckham, director of mission and outreach for Forest Lake Presbyterian Church in Columbia, South Carolina; and Julie Warren, a member of the Forest Lake church. Nancy Dimmock, a former Presbyterian mission co-worker in Africa (and a past mission partner of Fifth Avenue Presbyterian Church), is guiding the team in its travels and spiritual reflections.
The team has spent the week working on three refurbishment projects: rebuilding a chicken coop to support livestock, replastering the front porch, and hanging curtains in the living room and bedrooms. There has also been plenty of time for playing with the children and learning their stories.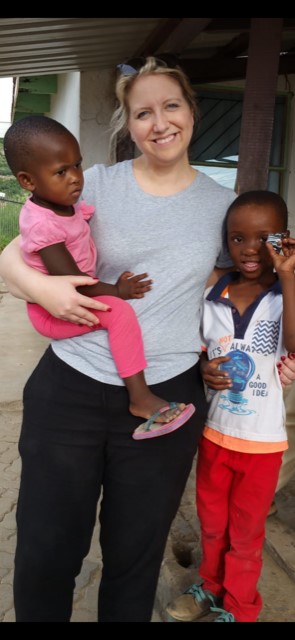 "There are nine children who go to school in a makeshift container, about 8 feet by 12 feet," Emi writes. "Crammed together, the children joyfully enjoy their morning Bible study class. The teacher, Thato, first reads them a page from a book about Jesus. Then she asks them to think about how they would make the world better. Some of the children's responses are, 'give love' and 'give God's air.'"
Ministry of Hope Lesotho was founded in 2009 by Nancy Dimmock and Mamonyane Mohale, a public health nurse who now serves as executive director. Because many of the children arrive suffering from malnutrition and poverty-related diseases, Mamonyane first creates nutrition plans to restore their health, before attending to their education and family placement.
"It's amazing to watch and hear the stories of these precious children that have come so far since coming to Ministry of Hope," Julie Warren writes. "Mamonyane has truly been a blessing to these children and has nursed them back to health. There are many miracles living in Ministry of Hope, and I want to be fully present to watch this wonderful week continue to unfold."