General News
Homecoming Sunday, September 12, 2021
I was glad when they said unto me, let us go into the house of the Lord. — Psalm 121:1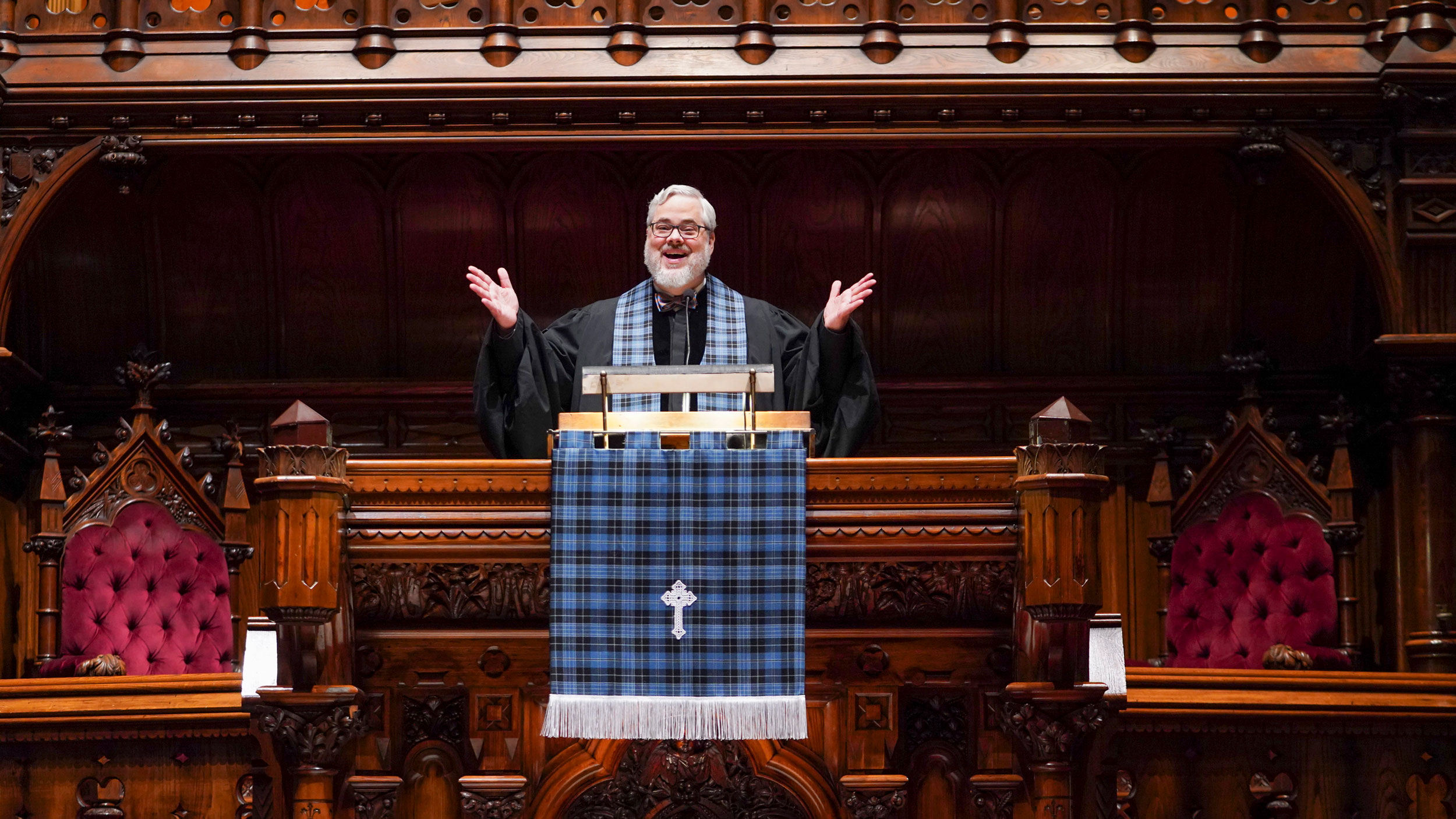 Welcome back! After more than 18 months being out of our sanctuary, after prayers, hard work and faithful pivots, and a million Zooms, we are so excited to be able to worship together on Homecoming Sunday, September 12th at 11 am.
The Reopen Task Force has announced that Homecoming marks the resumption of regular corporate worship at Fifth Avenue and 55th Street. The Task Force, wisely, waited to make this announcement, so as to be able to incorporate the most up-to-date guidance for corporate gatherings in New York City. Learn more about our plans below!
Homecoming is also the launch of Fifth Avenue Church's new Livestream ministry—a weekly live broadcast of our 11 am Sunday service bringing Fifth Avenue Presbyterian Church beautiful and powerful worship to friends across the globe. For those of you who prefer to watch Sunday worship at some other time during the week, our weekly video worship service, Light, Leaven & Salt, will available this Sunday (and every Sunday) at 5 pm. Light, Leaven & Salt can be watched at your convenience throughout the week.
While we've been apart, new colleagues have joined the Fifth Avenue Team and they can't wait to meet you. You'll see the Rev. Dr. Jonah So and the Rev. Sarah Speed in Homecoming worship and following the service they will be on the Weber Terrace to share a hello. To get to the Weber Terrace, just head to the Lobby and take one of our two (recently renovated) elevators to the 7th Floor. Volunteers will be stationed at both the Lobby and on the 7th Floor to safely manage the flow of people and elevator capacity. We will also, weather permitting, be having special music and fellowship outside on 55th Street after worship. It promises to be a joyful day.
Ready to build with us? On Homecoming Sunday, we will kick off our Fall Sermon Series: Faith at Work: Building Self, Relationships and Society for a New Day. As we emerge from this pandemic, we all want to be a healthy and faithful part of what comes next in New York City and around the world. To get concrete on what this means, this autumn Fifth Avenue Presbyterian Church is going to reflect on Biblical stories about building. What can we learn from the Good Book's many accounts of people who rise from the rubble, and (guided by God) begin to reshape their world?
Wondering what else to expect on Homecoming Sunday? Here are some FAQs.
Q: Now that Fifth Avenue is in Phase 3 and doors will be open, what is the church doing to keep our community safe from the recent spike in Covid-19 variants?
A: Your health and safety is of upmost importance to Fifth Avenue leadership. Learn about our masking requirement, worship changes, and staff and volunteer vaccination protocols in our September Opening Plan for Phase 3A & 3B, available at fapc.org.
Q: Is the Sanctuary attic construction fully complete?
A: Almost! We have made remarkable progress over the summer. It is absolutely safe to enter the space now. There is still some scaffolding present in the balcony. We have a few final pieces of work to complete. We believe the final stage of attic repairs will be finished by the end of September and the scaffolding will come down.
Q: What will Livestream mean for my in-person worship experience?
A: You may notice some new lighting and a few staff members scurrying about more than normal. We will be learning (ironing out the kinks) and perfecting our use of this sophisticated technology for months to come. Overall, your in-person worship experience should be similar to what it was before we began Livestreaming.
Q: I have heard that the offering will be taken up in a different way. What can you tell me about that?
A: We will not be passing the plates in worship during offering in this time. Plates will be available at the exits to worship. A QR code to fapc.org/give is available in each pew and on screen during the Livestream offering. Paper offering envelopes are also in each pew.