Stories of These Times
Producing a Bounty for City Harvest
How Annora, Marcus and Derek Lee enticed 19 classical musicians to help feed New York City school children.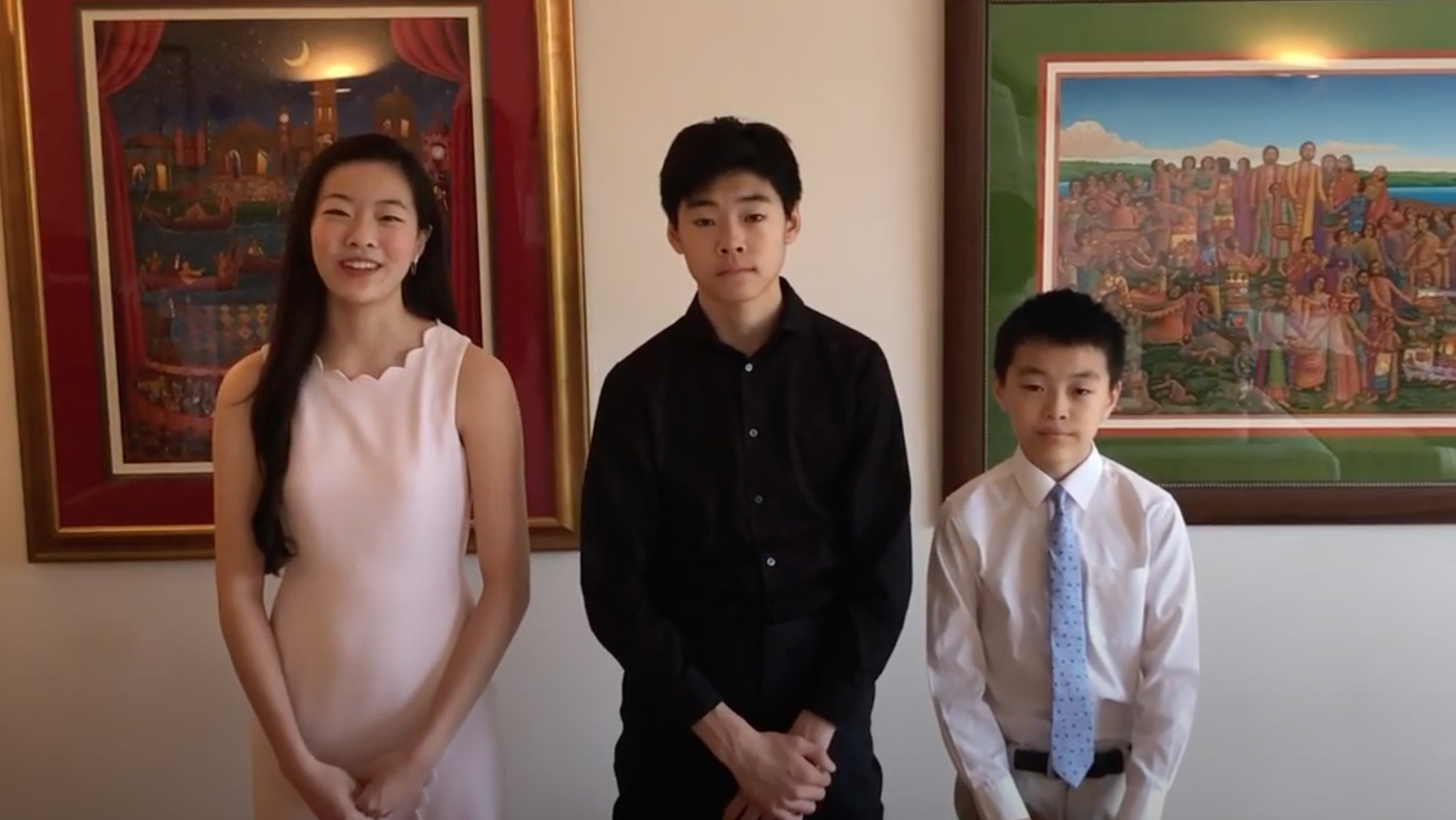 Back in early March, when New York City was still considering whether to close the public schools because of COVID-19, one of the concerns was the children who rely on school lunch programs for their main meal of the day. If schools closed to contain the virus, would those children go hungry?
That question weighed on Annora, Marcus and Derek Lee, the 17-year-old daughter and 15- and 12-year-old sons of Fifth Avenue members So-Chung Shinn and Tony Lee. They wanted to do something to help.
One month later, they have. Their Classical Virtual Concert (watch it here) has raised more than $10,000 for City Harvest's Skip Lunch Fight Hunger program. Here's how this remarkable project came together.
The three Lees identified City Harvest after researching possible beneficiaries for a fundraiser. Annora explains: "For the past 18 years the Skip Lunch Fight Hunger program has provided meals for New York City children during the summer months, when public schools are closed. The campaign has been redirected to support hungry children in New York City now."
They sent an email to City Harvest through the organization's website, and the project was underway.
Then there was the matter of the fundraiser itself. "As New Yorkers and music students, we wanted to help our community through music," Marcus says. "At first we didn't know what we could do to help. Then we realized we could share beautiful music with the world."
The Lee children are all musicians. In addition to private piano lessons, they are students in the Honors Piano program at Mannes Prep, a Saturday music conservatory school, where they study music theory, music history, ear training and chamber music. Through So-Chung's work with the Met Opera and her own musical studies, the family has built friendships with an impressive array of professional artists in New York.
Annora, Marcus and Derek went to work enlisting their fellow musicians to record a performance on video that could be part of the Classical Virtual Concert. Nineteen vocalists, instrumentalists and composers signed on and sent in recordings on just a few days' notice.
Among the performers are countertenor Anthony Roth Costanzo, sang the title role in the Met's recent staging of Akhnaten by Philip Glass; mezzo-soprano Sasha Cooke, a two-time Grammy Award winner and the most recent artist-in-residence for the San Francisco Symphony; and composer Ricky Ian Gordon, whose work Intimate Apparel (co-commissioned by Lincoln Center and the Met Opera) will receive its premiere this fall.
After collecting all the clips and recording pieces of their own (Marcus opens with Moritz Moszkowski, Annora performs Joseph Haydn and Derek plays J.S. Bach), the three wrote the introductory script and edited the 84-minute concert video using iMovie. The finished product took seven hours to upload on YouTube, finally going live on April 10.
"The performances are truly exquisite, intimate and heartfelt," So-Chung says. "Every professional artist in this event has a wonderfully impressive bio and a huge heart. They were so generous and eager to help."
For two of them, that meant finding something besides music to perform. Pianist Vladimir Rumyantsev and soprano Yulia Maschenko are self-isolating upstate—without access to a piano. For the concert, they recited a poem by Leo Tolstoy, in Russian and English, instead.
After the Lees surpassed their initial $10,000 goal, they raised the target to $12,500. The donations are helping City Harvest keep its trucks on the streets seven days a week as it ramps up operations during the pandemic. (Check out their progress here.)
In a message recorded specially for the virtual concert, Jim Dunn, distribution manager for City Harvest, says: "On behalf of City Harvest, I would like to give a huge thank you to Annora, Marcus and Derek Lee for creating this amazing event, and to all the incredible performers who are making this possible. Your support ensures that every child in New York City has the food that they need today and in the days to come."
Well done, Lee family.