History · January 11, 2023
Remembering John Howard Sanden
In a new exhibit in the Chesnut Gallery, Fifth Avenue Presbyterian Church honors the renowned portraitist who gifted the church with three of our most beloved works of art.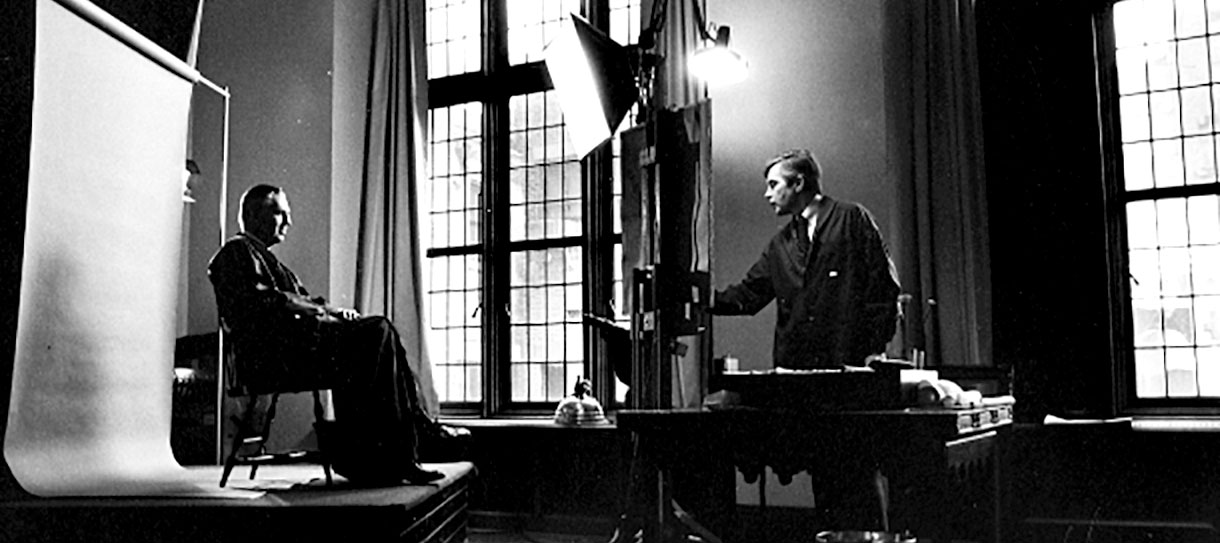 By Kathy Henderson
The American portrait artist and longtime Fifth Avenue Presbyterian Church member John Howard Sanden passed away on Christmas Eve at his home in Connecticut. He was 87 years old.
In a career spanning 56 years, John painted the official White House portraits of President George W. Bush and First Lady Laura Bush, as well as portraits of seven other Presidents and a host of religious leaders, CEOs and philanthropists. He wrote seven books on portrait painting and was awarded the John Singer Sargent Medal for Lifetime Achievement from the Portrait Society of America. Our church's art collection includes three Sanden portraits, each a gift from the artist.

The son of a Presbyterian minister, John joined Fifth Avenue in 1971. He and his wife, Elizabeth, were married in the Chapel in 1973 in a ceremony performed by the Rev. Dr. Bryant M. Kirkland, the subject of a portrait that hangs in Bonnell Hall. In 1987, the Sandens transferred their membership to Noroton Presbyterian Church in Darien, near their home, but they rejoined our church in 1993. Before the pandemic, the couple regularly attended the early service in Kirkland Chapel, where John's Portrait of Christ hangs on the west wall.

"There are many qualities that make a great portrait," John explained, "but the main one has not changed since the beginning of portraiture, and that is the degree to which the painting captures the personality and the character of the subject. Not the appearance — that's a given — but it has to show you what kind of man or woman this is." His portraits of Drs. Kirkland and Ken Jones certainly achieved that goal, and his Christ portrait gave Fifth Avenue members the rare opportunity to observe a master artist at work.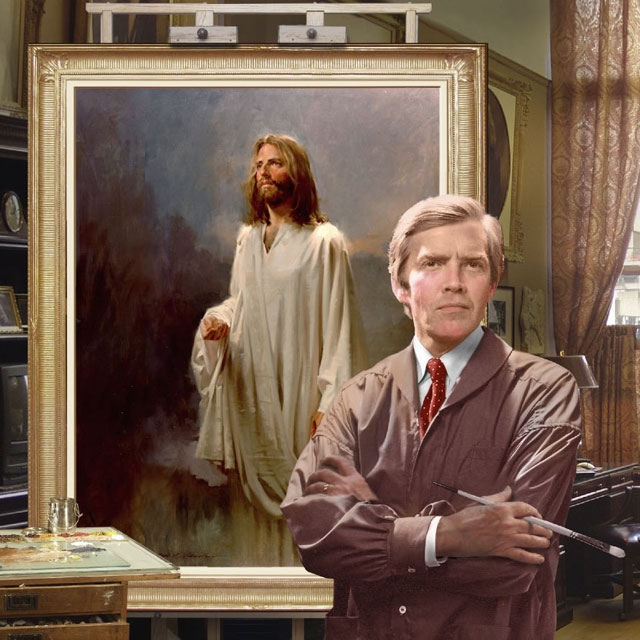 The Rev. Dr. Bryant Kirkland, 1980
John Howard Sanden served as Clerk of Session during the ministry of Dr. Kirkland, with whom he enjoyed a close relationship. In 1980, Dr. Kirkland reluctantly agreed to sit for a portrait, seated in his pulpit chair on stage in Jones Auditorium. John set up a studio light to compensate for the darkness of the space, and the finished portrait captured the senior pastor's calm, steady demeanor and direct gaze.
Understandably pleased, Dr. Kirkland later reflected, "The painting of a portrait can be a spiritual experience both for the painter and the subject, because adequate reproduction of a human personality involves discernment of the light shining within."
A second Sanden portrait of Dr. Kirkland is displayed at the headquarters of the American Bible Society, along with a portrait of the late Alice Ball, a former Fifth Avenue member and ABS general secretary.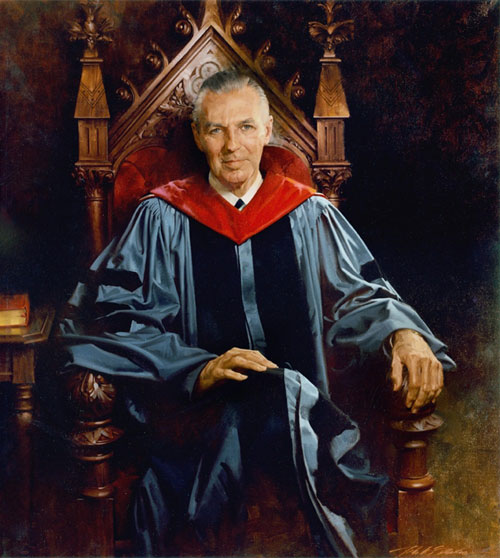 The Rev. Dr. Kenneth O. Jones, 1995
Longtime church members who knew Ken Jones experience a bittersweet feeling every time they look at Sanden's portrait of this beloved associate pastor: Less than a month after it was unveiled in the Sanctuary on December 10, 1995, Dr. Jones passed away at his desk on a Sunday afternoon while sorting visitor registration cards.
The portrait, which hangs in the auditorium renamed in his honor, conveys Dr. Jones's warm personality in a way never equaled by photos. (This modest pastor disliked being the center of attention.) His sense of humor and loving spirit are evident in Sanden's depiction, and Dr. Jones himself expressed delight at the level of detail in his robe, pulpit chair and water glass.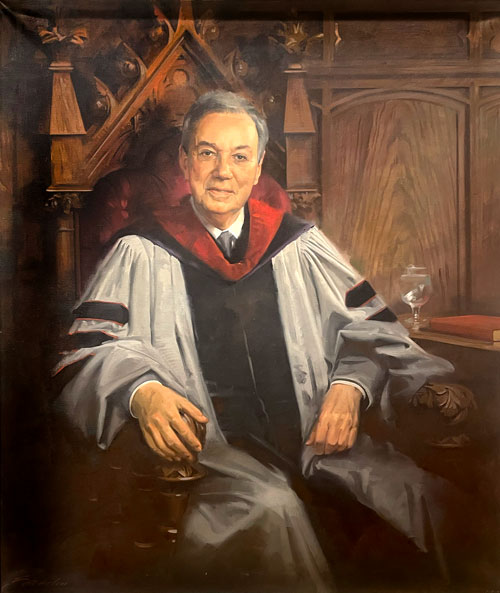 Sanden's striking 70" by 54" portrait of Jesus was completed in four weeks during a series of Sunday morning seminars where church members were invited to watch the artist at work.
Before that, he explained, "It was a question of finding an appropriate model—I can't just 'make it up.'" Shortly before the series was set to begin, Sanden spotted a young man with shoulder-length hair and a beard in the Sanctuary during Dave Brubeck's annual Christmas cantata. He was Jay Friedkin, a Jewish film student at New York University (and the nephew of the film director William Friedkin) who had never set foot in our church before. Approached by the artist, he agreed to pose.
Elizabeth Sanden made a white robe for Friedkin to wear, and a month later, members filed into the Chapel to greet artist and model. "Jay, wearing his robe, stood by the painting, shaking hands and greeting parishioners," Sanden recalled. "It was a highly unique scene."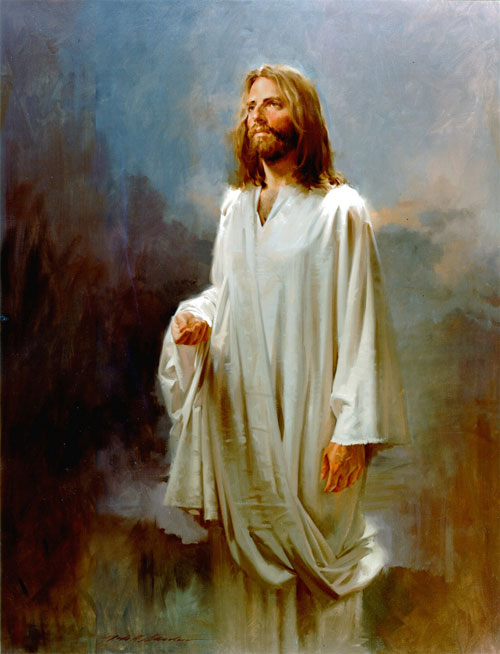 Kathy Henderson has been a member of Fifth Avenue Presbyterian Church since 1980. The Sanden exhibit, sponsored by the Arts & Our Faith Committee, will remain on view in the Chesnut Gallery through Feb. 17.